SHIPPING
DNC Ships through out the United Kingdom: England, Scotland, Wales, N. Ireland using TNT, dependent on customer preference and weight, other delivery restraints, i.e. limited services in the Highlands and Islands, etc. DNC also use Rico Logistics for same day shipping within the UK, and have done URGENT sameday 400 mile runs (800 round trip) for DNC in the past.
Shipping cutoff is 4.45PM
Outside of the UK; Europe, Africa, Asia, etc. DNC will normally ship via UPS for parts < 70Kg, and UPS Supply Chain Solution, TNT & Euro Pallets for heavier parts. Though if we know pre-ship that a particular courier offers slow service with bad coverage to a particular area of Europe, then we will always seeks the customers advice for the best time/cost shipper. Currently DNC can ship with UPS, TNT, FedEx, Rico, Ceva, Euro Pallets and many more couriers.
We are happy to ship on customers account. Please be aware the part must be fully insured and the customer takes 100% responsibility and liability for any problems that they may incur while the part is being shipped from DNC to you via your courier. All parts that are to be shipped back to DNC are to be paid for by the customer in all respects. Please contact the office for further details.
Warranty Parts return / shipping is covered by DNC to the customer only, and will always be expedited.
Packing your part & shipping to us:
Choose the right packaging for your items.
1. Choose a box size appropriate to protect its content. Under-filled boxes are likely to collapse; overloaded ones may burst. Consider strength, cushioning (crush zone), and durability (single, dual, tri-ply or pallet) when selecting what you use to package your part.
2. Fill all spaces in your box with a suitable filler such as polystyrene chips, foam, or even shredded paper (don't use this for motors). Big spindle motors, are best shipped pallet only.
3. Use new or a decent quality cardboard single (very light & small), dual (medium size 45*45*40) or tri ply corrugated design (large+heavy 60*50*40 30KG+ or for delicate amplifiers with open frames). WARNING: If the cardboard box is damaged in any way it weakens and becomes useless; then you are relying on the good will and gentle handling of the couriers!
4. Make sure that the correct labeling is visible and always use 'FRAGILE' & 'DO NOT MACHINE' stickers when necessary.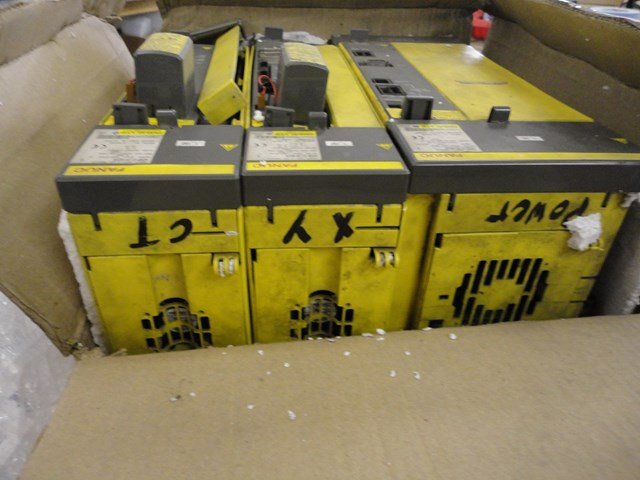 This was a very lucky customer, but an awful pack to save a few pounds on shipping costs – it could have gone very wrong and if under insured a complete loss, if the parts had been bounced off the concrete on route to us. The parts did sustain quite a bit of damage!